Are you ready to take your surfing to the next level?
Pro-coaching with Sam Lamiroy to get your surfing closer to where you want it to be.
Wavehunters,The Beach, Polzeath, PL27 6TB.
For an Exclusive Advanced Surf & Video Coaching Session in Polzeath
2 sessions on, Tuesday 11th July, 10:30am - 1pm and 2.30pm - 5pm, and
2 sessions on, Tuesday 18th July, 10:30am - 1pm and 2.30pm - 5pm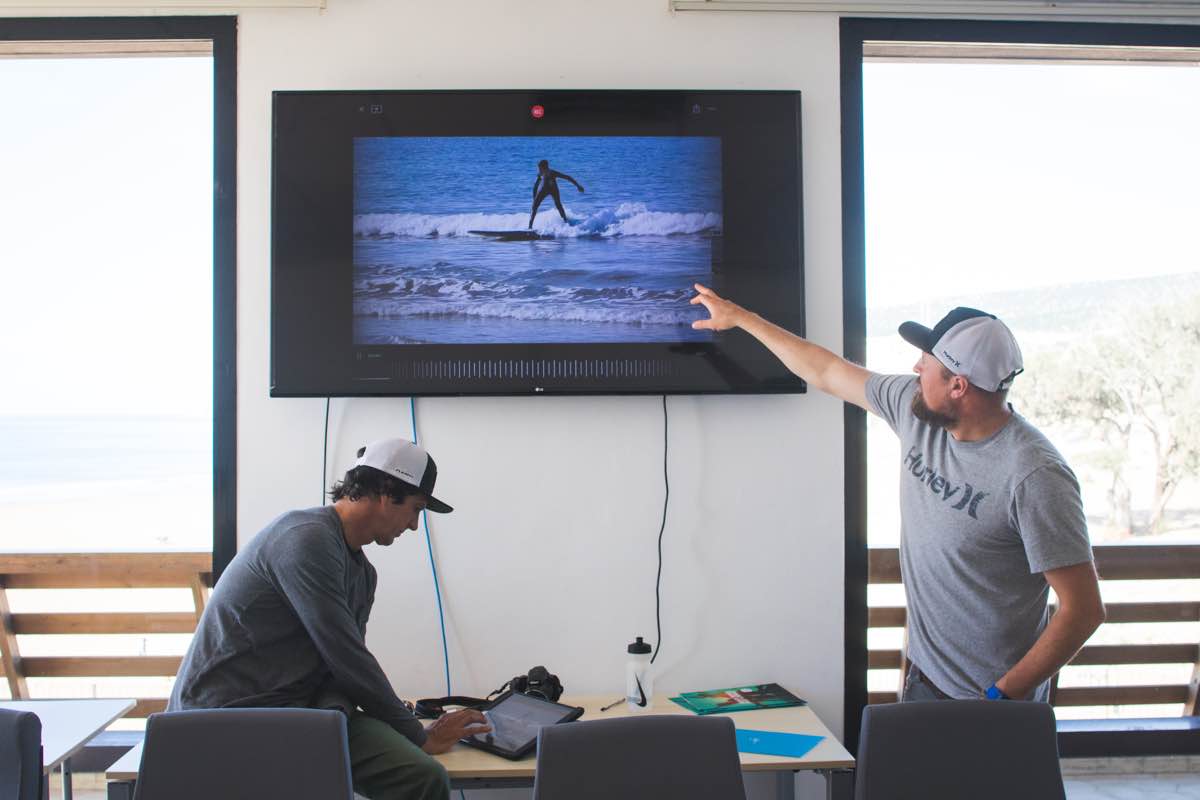 Video Analysis that combines, technology, experience and insight, secure your space now!
Select from one of the sessions below and click the "Purchase Now" button
The idea
I wanted to make the very best surf coaching available to a larger number of recreational surfers looking to improve their surfing.
I know that one-to-one coaching sessions can feel quite intimidating, not to mention expensive – so I decided to team up with some of the best surf schools in the UK to deliver a series of Exclusive Advanced Video Surf Coaching Sessions in small groups.
As one of only 4 coaches in Europe delivering the Hurley Surf Club program, I have been fortunate enough to work with some of the best surfers on the planet – and it's this knowledge I'm planning to share with you in these sessions.
Who's it for?
All participants must be of the following minimum ability standard – Green iAM Band level and above – this means that you can catch your own unbroken waves and traverse them – both forehand and backhand.
If you ever wanted to improve your surfing – then this is your opportunity to get some friendly help, especially if:
You're unsure if your technique is sound?
Or your equipment choices are right?
If you get frustrated about missing waves?
Or not quite nailing the turns you know you could be doing?
These sessions are also very suited to highly advanced surfers:
Looking to sharpen up your turns
Generate more power in your surfing
Work on your air game
Improve your speed and flow through your manoeuvres
Or if you're looking for strategies to improve your competitive surfing
The Session, the Format
One of the best ways to understand where you can improve is to see your own surfing – slow it down, and pick out key points of interest – our video analysis helps us make this as simple and clear as possible.
This is an immersive surf coaching experience, where you will surf the best available conditions on the day of your session. We start with a brief overview of key fundamentals true of all great surfing.
You will then get in the waves where your surfing will be filmed and you will receive relevant pointers and advice – this will be followed with a classroom based session featuring video analysis of your waves – using the latest analysis software and technology.
Here key points will be highlighted to help you get your surfing to the next level.
Become a better surfer and join the iAM Bands surf community
iAM Bands is an ability measure, growing throughout the surfing community. It is a way to easily understand where your surfing is at – and the journey to get you where you want to be.
Have a look at the poster – there might be a few familiar faces.
During your session you will also receive a complimentary iAM Band assessment, including your own free iAM Band (RRP £15 in store, or £9.95 online).
The Coach - Sam Lamiroy
I've had a long career as a professional surfer and over the past few years have focused on the coaching aspects of surfing.
I've always been fascinated by surfing technique and the fundamentals of human movement – both out of curiosity – and as a means to elevate my own surfing to the highest possible level to achieve competitive success. This personal journey has inspired my coaching philosophies and insights.
Since retiring from the pro-circuit, I've loved helping thousands of people to experience the thrills of surfing – from running the European wide O'Neill Surf Academy, to now heading up the Hurley Surf Club in the UK.
What people are saying ...
"Sam's Coaching got me excited about surfing again!
Gavan, Dublin, Ireland
"I don't feel like I've ever had such a big leap forward with my surfing. From the first surf with Sam he started slipping in little tips that I could immediately put in to practice - he really gave me practical instructions that stuck in my brain."
Peggy, Portugal
"I have been surfing regularly for over 20 years and wish I had got PRO coaching years ago. Sam's advice has been really useful and made surfing a lot more fun in all conditions."
Rich, Devon
"After coaching sessions with Sam I realized that something I had earlier thought of as impossible is now actually within reach."
Nina, Sweden
Limited Availability, secure your space now!
Select from one of the sessions below and click the "Purchase Now" button: